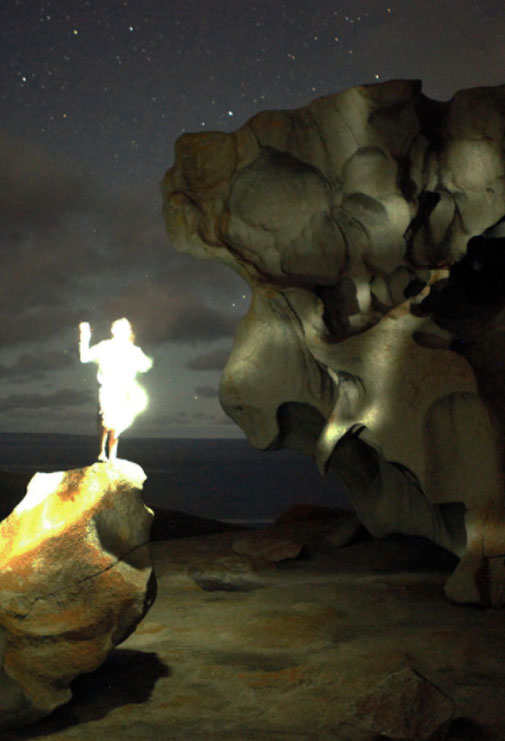 THE ECSTASY
It's a tradition and a great honour to be invited to The Release, when the soul has progressed to such a stage it no longer needs the body. Ilyana and I were to be married, but hey – can't match that calling.
She steps on the Rock of Supplication and moves to its crest and the guests suck air in unison. There have been charlatans and simply deluded folk who have perished at this point, simply snapped up by the huge fungal edifice discovered when we were mapping this new home … torn in two and spat upon the bluff, where myriad symbiotic carnivores would dispense with the remains within minutes.
We'd encountered them in our fact-finding expeditions too, lost quite a few Recon units before The Gateman, what we came to call the gigantic sentient fungus, decided we possessed souls.
Ilyana adopts the supplicant pose now, one hand half-raised. It never looks like supplication to me, but that's what the Gateman described long ago in its powerful telepathic images. It's all in the perception.
The sea stills, the breakers sharing the sigh of released breath from the congregation. We can all feel the subliminal pulsing of the Gateman. Ilyana flares into heatless incandescence, the brightness hurting our eyes and reflecting off the form of the great facilitator of spiritual passage – the Grand Poobah mushroom. Light and shadow combine to suggest stylistic mocking faces on the rock-like creature.
The indignation, anger and ridicule startle me. Why should I resent such a wondrous transition? I look at the faces around me and for a moment their eyes adopt a glazed stupidity.

THE ECSTASY
Then the love comes in waves, soothing the pain of the grief-sickness which I have heard accosts those close to The Chosen. The idea that I could be so affected frightens me. More comfort emanates from The Gateman and I smile; then cheer, tears of joy streaming as Ilyana's soul transcends, and The Gateman takes her shell in offering.
***
"There, did you see that?"
Captain McGowan stared at the undercover scout and made to remove the makeshift hat which the cyborg had made him wear from the moment he disembarked from the follow-up scout ship. "You just sit there–?"
"I wouldn't," the cyborg clamped the man's hand firmly in place over the glittering headgear which, though squashed a bit now, still served its purpose. "The crew of Outreach haven't gone native. There are no natives. That thing down there is powerfully telepathic. It has no regular senses, but it sees brains and can control a regular human mind as easily as you could play with a glove-puppet. It's still coming to terms with strong emotions though. Notice that guy nearly slipping the leash?"
"So how come you weren't effected?"
"The electrical interface in my skull which allows me to control my bionic implants seems to block it." He tapped the captain's jury-rigged headwear with two fingers. "Who'd have guessed the long-ridiculed tinfoil hat would come into its own?"