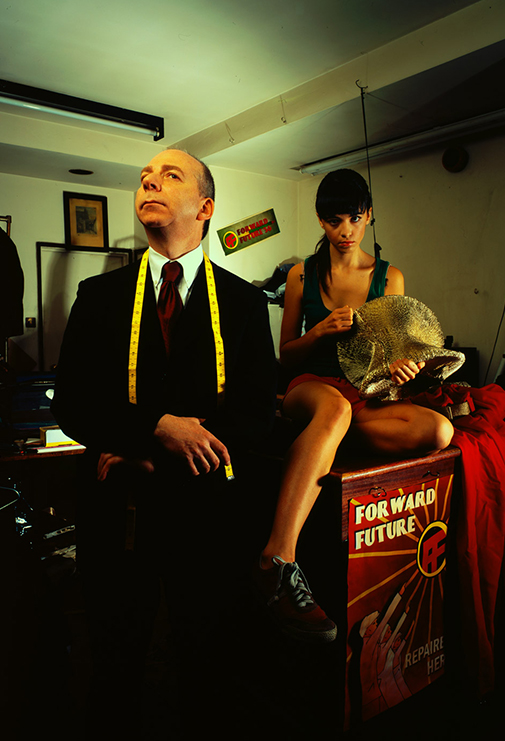 The Dying Craft
Characters
Rupert – Sixty-year-old white male. Owner, The King's Tailor Shop, British.
Jess - Twenties, mixed raced, American.
Setting
King's Tailor Shop
Jess
You done?
Rupert
No.
Jess
Now?
Rupert
No… may I help you child?
Jess
Lady.
Rupert
Young lady.
Jess
Much better. Who calls someone a child?
The Dying Craft
Rupert
What are you doing? You've entered my shop and sat in that corner, staring at me for half an hour. 
Jess
Studying.
Rupert
Young… Lady… what you are doing is nowhere close to studying. You are nagging.
Jess
Youthism much.
Rupert
Excuse me?
Jess
Youthism… Discriminatin' on me due to my youth. Not cool. You got to be all forward future and shit. Can't be just discriminating against people cause of their lack of ancientness.
Rupert
Young lady -
Jess
There you go with that youthism.
The Dying Craft
Rupert
This is a business. This is a tailors' shop. There is history in what we do. Men, and sometimes women come to this place to discover themselves. Walk in here and come out refined in elegance. Rebirthed into the better them. So if you don't mind, the door is there - see your way out and I'll continue with my alterations.
Silence.
You're still here.
Jess
So here's the deal. I'm here cause I wanna learn like the craft you doing.
Rupert
Pardon?
Jess
I doing some thinkin'.
Rupert
I'm sure that was difficult.
Jess
Sometimes it is, but this time it came real easy to me and shit. I was netflixin' and chillin' but not chillin' cause I ain't got no bae or nothin' like that.
The Dying Craft
Rupert
Bae?
Jess
You know… Bae.
Rupert
Bae?
Jess
… steady dick. So I'm chillin' and watchin' Netflix but not chillin cause I don't  -
Rupert
Bae.
Jess
Exactly. I turn on these celebrity interviews and there's… what's his name… damn what's his name? "If you have a milkshake, and I have a milkshake, and I have a straw. There it is, that's a straw, you see? Watch it. Now, my straw reaches acroooooooss the room and starts to drink your milkshake. I... drink... your... milkshake!" Damn what's his name? You know.
Rupert
I actually don't dear. 
The Dying Craft
Jess
Got it!! Daniel Day-Lewis. So they're talkin' to him. He's talkin about some movie called "Left Foot" and then blah, blah, but then I guess him doing that movie, gave him a foot fetish or some shit.  Cause next thing you know, bam… he's talking about how he decided to become a cobbler. A freakin' shoe cobbler. But he's talkin' about how all these trades are a dying art form, so I was like damn I'm sittin' here watchin' Netflix, when I could be taking on a dying artform, helpin' to revive it… Do my part. So I google and you like two blocks from home. I said perfect, so here I am.
Rupert
Here to…what?
Jess
Learn your dying craft. What you say?
Rupert
No.
Jess
No?
Rupert
No, young lady, what we do is a craft, passed on one generation to the next. A time-earned tradition. I don't have time to teach… what has taken many years to learn, decades to master. You'd be lost.
The Dying Craft
Jess
You're doing a right now is an overhand cross stitch. It's the most complicated of stitch patterns.
Rupert
How do you know that? 
Jess
YouTube.
End Play.