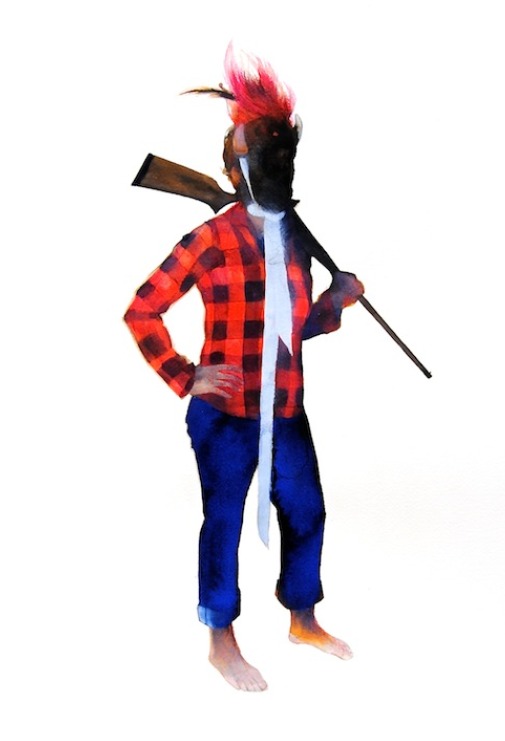 Rifle (n./v.)
Life does not
stand, a loaded gun.
(Dickinson was wrong.) Bang.
Never even knew what.
Hit you.
*
Wanna pull that tie, quiff on fire boi.
I know you know what to do with that muzzle. I know
it's (not) a mask.
*
What you hunt, you become? Not that simple. Not black-and-red. Read my jeans: it's blue in the morning and this is doing.
I learned it from my [ ]. I learned it from TV. I learned it in my body, from the fur on my feet to my flaming skull. Let me show you.
*
Lesson 1: The Grip
Lesson 2: Staring Down the Barrel
Lesson 3: Safety/Trigger
Lesson 4: The Rifle Repeats
*
& in the other hand, a placard that reads:
Not the Academy's poverty porn.
*
a tool for whetting a scythe; a plunder, a sacking, a spoliation; each of the set of spiral grooves giving to the projectile a rotatory movement on its own axis; to carry off as booty, to plunder, to steal; to play dice, to gamble, esp. for a stake;

Rifle (n./v.)
*
You don't even have to go hunting for it. Plunder. It's in every word. Language a spoliation, shot through with violence.
For a stake. She'll pretzel that barrel and plant a tree in your heart.
*
Check, mate. Its paler twin, repeating. Neighbouring. Blocs.
This is a map. This is demographic. Vigilante, I swear it. Property = theft, etc.
Rifle on both sides.
*
Right, who's out there? Who's coming for you, toward you?
Night.
Can't stop night with a bullet, though, can you?
*
Monday, 20 Jan, 2014.
Nothing.
Horizon.
(Is horizon nothing?)
*
When I dream you are home with me. Standing in the kitchen, holding the gun. Standing in the shower, holding the gun. I kneel at your feet, take off your jeans.
Put them in the washing machine. Tenderly. The things they have seen.
*
You tell me about the Winchester Mystery House. Built with 'the Gun that Won the West', its echoes through 160 empty rooms where a widow waits in séance. Staircases that lead nowhere, designed to trap the spirits that haunt her. A shining, you could say.
Or 'rifle': a spoliation.
*
How the story starts. How we long for ghosts to rise up, for justice. How afraid we are. How we can't but hunt them down.
*
Imagine the uprising, you say. In the night, among the pines. I stand, but not guard. Respect. Safety on, barrel down. I let night take my face, so I can see.
Rifle (n./v.)
This is their night. It sets my hair on fire. (Dickinson was right.) The staircase that leads nowhere leads here: outside the walls of the mystery. Let it come down.
*
Rotatory movement. I turn and you are gone. I turn and you are here.