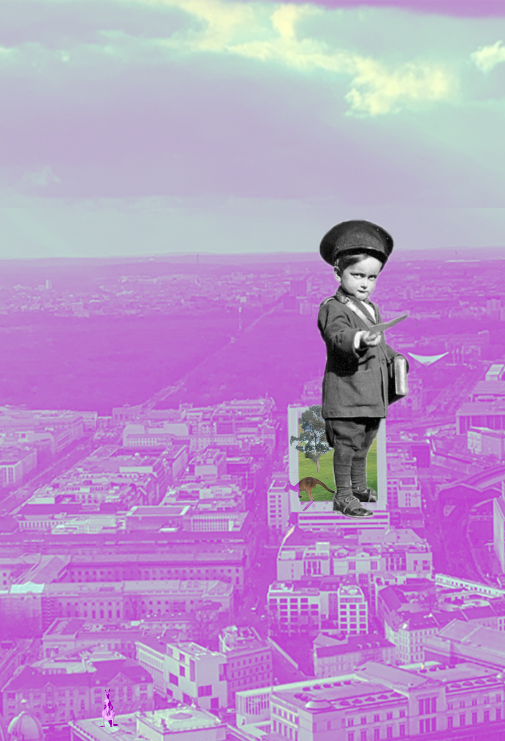 On Big Guys and Big Dreams :: Always Look Up
When I was younger, I'd wonder about the often-referenced big guy in the sky. The one who was always watching. Books of Life. Carefully curated Lists. Checked twice. I'd inhale, exhale, then sigh. Dispense whistles and wonder amidst perpetual strife. I'd want to know: Does she wear denim? Do they prefer lace? I'd imagine re-gendered and re-rendered versions of celestial beings. Out-of-this-world aspirations worth craving. All the while streaming Dolly (9 to 5) and dreaming (in puffy unicorn diaries under red gingham blankets – 11 to 6) of more nuanced versions of the cliché kitchen-counter phrase: Live. Love. Life.
My head would swirl.
Each curl a flutter.
I'd never been an ordinary girl.
I was unable (disinclined) to confine
limbs or buttocks
to school-issued metal seats.
Equally reluctant (resistant) to oblige
school-issued prancing (square dancing) feats.
Dialects & dimensions always off-beat.
Dictionaries & dinosaurs a daily companion.
I'd doodle then draw.
I'd carve ice then watch it thaw.
I'd fine-tune visions
of a few of my favorite things -
On Big Guys and Big Dreams :: Always Look Up
layers of lavender chiffon & vanilla-scented leaves
cheeseburgers topped with relish & sweet peas
blueberry crumble (cooled) & lattice crusts (hot)
green beans roasted in melted butter
blue jays roosting in attic eaves
dandelions & dragonflies
no better thans / no bitter spices
parakeets & puppies (in pairs)
rainbow sherbet / extra scoops
handknit mufflers / extra loops
Folgers coffee grinds
sun-dried orange rinds
off-season carousels
KYW in stereo
newspaper crosswords & tongue-twister syllables
dragons (& dungeons) in designer duds
sandwiches – tri-color Neapolitan & bologna on rye
leather lace-ups / faux fine
plaid skirts (above the knee)
pleated pants (off-brand, just enough stretch to dance)
100% cotton tee shirts (a signature embroidered honeybee)
floors covered in books (multiple genres & double entendres)
mazes roped of Judy Blume stories & Nancy drew mysteries
On Big Guys and Big Dreams :: Always Look Up
I'd dream
I'd design
I'd draw
multi-colored hues & fabrics of lace
all while remaining acutely aware
of the stuffiness of place
never will I ever
allow
imagine
entertain
accept
any notion that
the ultimate powers
rest in letters
of suits and solid colors
passed and pressed
(never surpassed)
of tucked hems
and tailored tunes
all caps aligned
of stories already written
word counts checked
all margins formatted
the clouds remain
puffs of aspiration
give us time