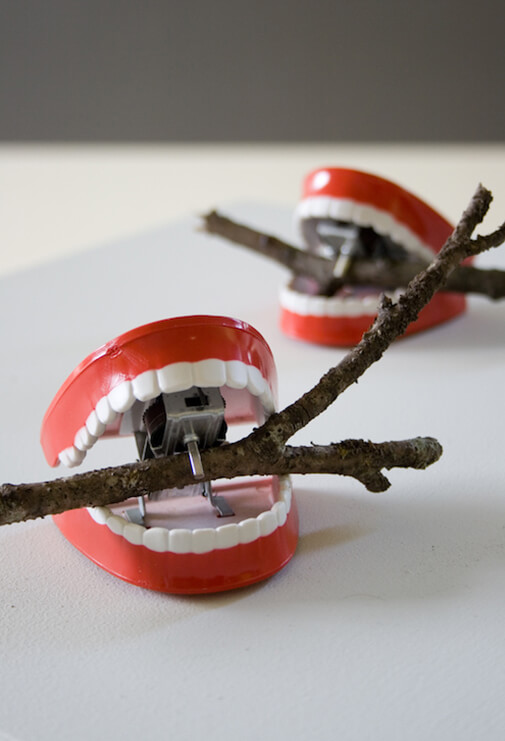 Mouthpiece
Consider the red of the lip:
Ruby Woo, Grand Illusion, Bitchette.
You can't come to anything neutral.
This is about women.
Teeth have become whiter in the last century.
Blanx Stain Removal, best for sensitive teeth,
contains lichens and bamboo micropowder.
Yummy.

Watch Andie MacDowell in Groundhog Day (1993):
marvel, drop your own hinged jaw,
at her teeth the colour of a western sky
overcast, gathering rain.
How did she get screen work?
Get bleaching, honey.

Baby teeth are lady teeth: see A Doll's House (1879).
Macaroons will rot your songbird beak.
Nibble and munch in secret.
Taste buds are not made to open.

Mouthpiece
Best removed, replaced with a Chatter Mechanism.
The tap of a delicate drill, a faraway woodpecker.
When disturbed or threatened, termites create rattling noises
by hitting their heads against the walls of their tunnels.
This is still about women.

Splinters in your mouth grow into vinegar twigs.
When baby Juliet, still milky, tasted wormwood
on the nipple of your dug she felt it bitter, pretty fool,
and fell out with the dug…till she got used to it.

But even a wisp of fluff is intolerable on the tongue.
Now it's dead and dry as kindling: watch it!
If that's Cherry Bomb or Firecracker Red we're all a-goner
(that mouth is a frickin' grenade)
sipping grenadine:
a Non-Alcoholic Bar Syrup
characterized by a flavour both
tart and sweet tart and sweet tart and sweet –