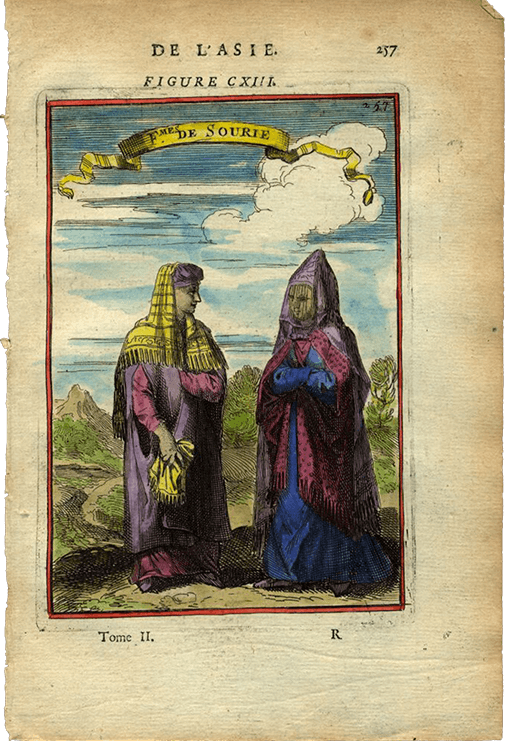 LOOKING IN, or LOOKING OUT
It depends which way you're looking.
You see, if you're looking in, and your country is a different country from our country, then you might say we are foreigners. But you would be wrong. Because we, looking out, are women of the world and natives of this country, Syria. Our world is a few hundred years removed from yours, certainly, but we are women and we are of the world. Our world. And now, because you are looking in, it could become your world. What do you make of us, we wonder?
What do you see? Feel? Think?
Be honest. We want to know.
See how we've turned our ears, one each, towards you.
So, tell us.
One of you is wearing something that makes me wonder if you tend bees? Or perhaps it protects you from desert insects? Mosquitoes? Or are you a religious elder? Perhaps you're instructing the other woman who isn't wearing a face-covering?

You're curious. We like that. And you're asking questions, not jumping to conclusions. We like that, too. My headdress isn't to protect me from bees, but your intuition must be strong because our houses, at least those in the northwest of the country where we come from, are made of mud and they look like beehives. We are travelling from our village on pilgrimage. We're going to the Great Mosque of Aleppo in the north of the country.
Why are you crying?

Because, in my time, now, the twenty-first century, looking in, I must tell you that the minaret at that mosque has been destroyed.

LOOKING IN, or LOOKING OUT
That is sad news indeed. But it is exceedingly good news that you are here, looking in. Because if you will step in, if you will join us, we will take you to Aleppo. We will show you the mosque and the minaret. We will show you our beehive-shaped houses, afterwards. We want to do this because when, eventually, you step out of our time and out of our lives, when you're looking in again and no longer looking out with us, from here, you will have seen the minaret and you will be able to instruct those who take on the task of reconstructing it. If you step into our lives, into our time, if you join us in our looking out, we will know you will do this. For us, and for all our countrywomen.

I'm coming. I'm walking in. Now. Will you be kind and lend me some clothes, like yours, to protect me from the heat?