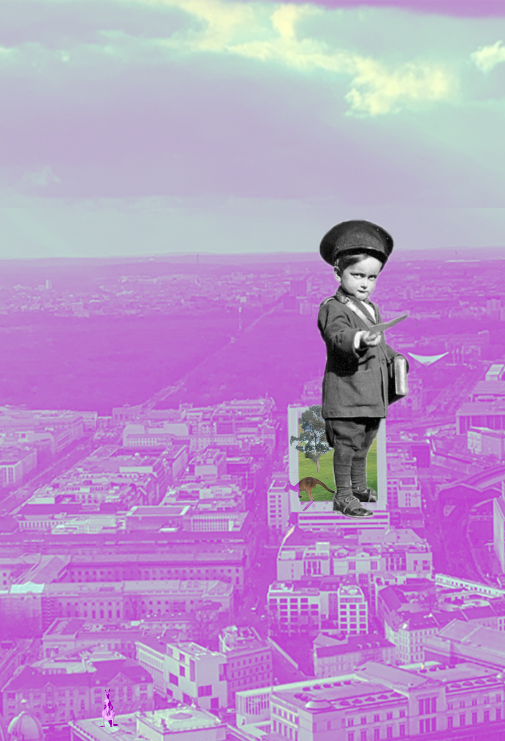 Invasive Species
The Alien rises above the ground, pulling me with him. He's taken the form of a mean-looking little boy, yet strangely I feel no fear. He says, here take this deal, read it carefully for the sake of humanity.
It's a ruse, I'm sure. Ma had told me never to accept a stranger's gift. In America, I've taken flyers out of courtesy from strangers who put out their hands to my heart. Always, I was disappointed. No sales deals but invitations to meet God to fix our souls, discounted tarot card reading sessions, offers to visit an astrology and tea leaves fortune teller.
So, I shake my head no. Is it wise, I wonder at my foolishness. We're hovering above the city. He wraps the earth in pink gelatin. Everything could come crashing down at his whims. He puffs, glares at me, his hand shaking the booklet towards me. Behind him a cutout door, aperture to another world, green grass, kangaroos hopping about. One jumps through the pink gelatinous frontier, lands on the top floor of a high rise. It peers at us, wearing pink dungarees.
Well? The little Alien boy shouts at me. He's stomping on his own creation. He's in a fit of temper. He squeaks and thwacks at his temples. The gel trembles, shakes under my feet. He tears the booklet. Leaflets swirl like a storm.
Wait, I say, I'm sorry, stop!
Too late. He grins. The invasion has begun. My army of kangaroos will technologize your platforms, you'll be at the mercy of ME and ME alone. He cackles, swings around, and disappears inside his mind, zipping us in his grip.