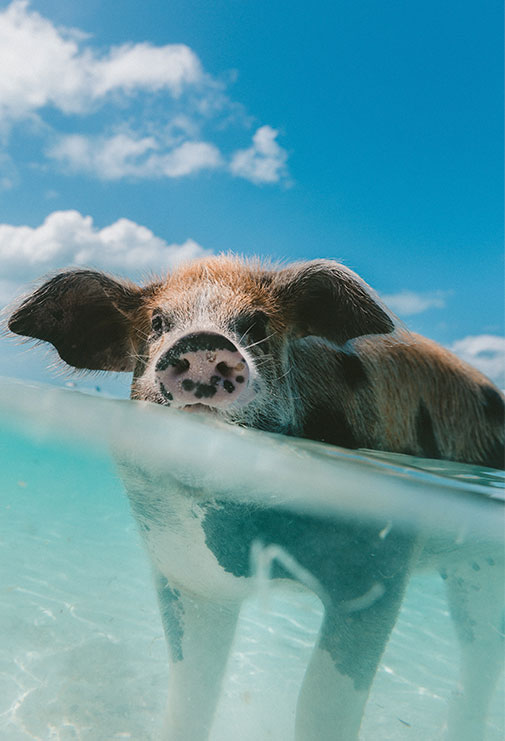 I'm Literally The Pig Swimming Past
I never asked to become a meme. So allow me to reclaim my narrative.
If that monkey can claim a selfie, then so can I.
Caption this! "I'm literally the pig swimming past." Cry-Laughing Emoji. Tired Emoji. Downcast Face With Sweat Emoji. Pig Emoji. Snout Emoji.
I don't even remember that picture being taken. I was just going about my day. I hadn't noticed the bronzed kissing couple, greasy with sunscreen, standing in my little corner of the shallows. I am inured to such spectacles, at this point. Her legs around his hips, arms around his neck, their faceless faces pressed together.
I see so many of them, and they're all interchangeable – slim golden bodies. Perfect makeup, unmarred by the caresses of the Atlantic. Perfectly styled hair. Eyes invisible behind designer sunglasses. They all look so similar, and they sound so similar too. Cooing. Squealing as soon as they set eyes – and phones – on us.
I don't care how many times the meme has been shared. I don't care if you're lonely. I don't care if you think it's funny. I don't even care that it's cause you think I'm so cute.
You're not "literally the pig swimming past." I am, though.
We live where the water and sky slant into one another. An island that is "uninhabited", unless you count us. Which I suppose they don't. Why wouldn't people seek out peace here? It's paradise. Even I, who have never known anywhere else, know that.
It just seems a little counterintuitive to feel you have to parade that peace all over the world. Broadcast it.
I'm Literally The Pig Swimming Past
Does that make it more real? Is that somehow more calming? Pics, or your peace of mind didn't happen. Pics, or you can't perceive the beauty all around you.
It's a status thing. And there's no denying we're very good looking. I'm an accessory to all that. And so they wade after me – their own personal white whale, except I'm pretty easy to spot. Covered in spots. Right down to the velvety, salty end of my snout. And I don't swim very fast.
Legend has it our ancestors were abandoned here, to be eaten by sailors who never returned for them. Part of me hopes they were swallowed up by the ocean, just like they had wanted to swallow us.
Others say the earliest of us survived a shipwreck – a ship bound for where, I wonder?
Either way, I suppose we've survived much worse than becoming a hashtag.
But did I want to be laughed at all around the world? Would I have consented to this, if they had asked nicely? If they had explained why they did it?
Not by the hairs on my chinny chin chin.
Still, I wonder when we'll stop being people's dream destination. I wonder what that will mean for us.