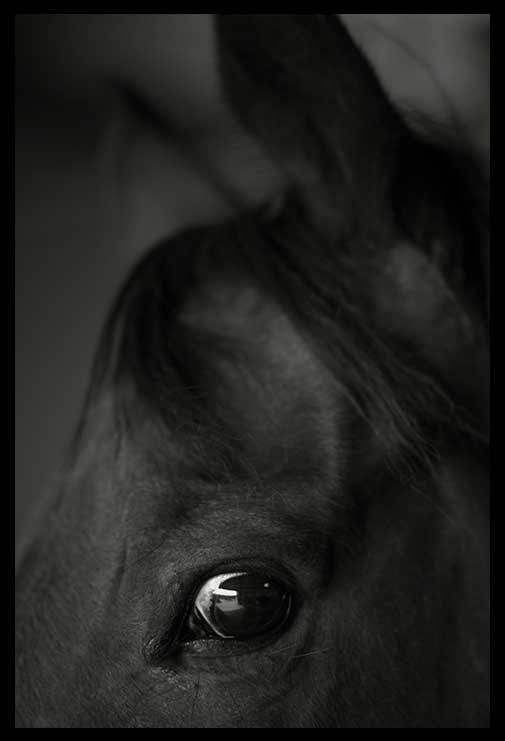 Horse Head
This black horse. This chosen horse that will die of exhaustion by morning, every contract of its heart spent, every drum of hooves sounded. By sun up it will be immortal, white and marbled.
Three priests rode it down in the stampede.
Now here it is, this horse of Selene, standing alone, amputated from the herd, searching for pricked ears and scraping hooves in a vision stretching horizon to horizon.
But only the three priests circle.
Stunned to stillness after millennia on the grasslands—fight or flight broken—it ducks its head, snorting away the human smell.
Knife flashing on leather, stropped sharp and they all close in at once and this horse turns it head and bares the whites of its eyes. In slides the knife, parting the coarse hair and entering this neck and pink foams out as it thrashes clattering, spilling on the cobbles and they stand back to watch for meaning in the blood running between the stones.
Down it goes, head slowly dropping and eye glassing.
And up it comes, frothing and splashing, legs stepping through the ocean. This white horse, harnessed in pearl and dragging the glowing sphere from the depths, straining every part. And there is Selene, holding the rails of the chariot as they erupt together, spilling the oceans from rigging and wheels and lifting the orb into the dusk.
Hooves hammering and heart pounding and behind Selene is screaming in wild delight as she lives again and they pull the sun's mirror free of the sea and bathe the night in light.



Horse Head
This horse screams with her as it arcs across the sky, beating the heavens, its heart tightening with mortal pain as it charges the stellarsphere and becomes god, carved of stone and heavy and crashing back into the sea, driven to the depths by the celestial body that now crushes to the centre.
This immortal horse of Selene, staring at the sun as a fly walks its eyeball.