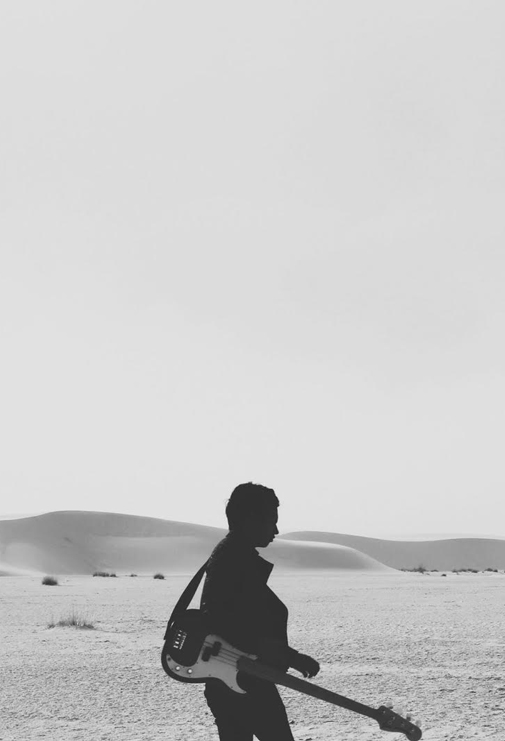 For Archival's Sake
The photo-shoot occurred on an absurdly hot day in January. He had never conceived that life could be this humid and barren during the time of year when he was raised building snow forts. The leather pants the photographer had insisted he buy were chafing, and he had sand at the end of his boots, in between his toes. There wasn't enough cell service to call home and complain to his agent, so he drafted angry emails in the trailer he was provided to change in.
Reggie, of course, was loving it. He wore a sleeveless t-shirt and didn't have to lug around an instrument, seeing as he was the singer of their band. He was sweating, but in a charming way that made Brad sick. He hadn't joined the band to take glamour shots in the desert, nor did he care to see how much media event like this inflated Reggie's ego.

He chain smoked cigarettes and offered up no more then three or four words to anyone that tried to speak with him that day. His dissatisfaction made him stick out like a sore thumb, and none of his bandmates asked him to join in their touristy shenanigans after the shoot was over. He sat at the foot of his stained motel bed and tried again and again to send his agent a message. He'd written a manifesto in his mind about the way selling out like this made him feel, and how he'd hoped the next gig he booked could be "real". He didn't mind that the checks would be smaller, he just wanted his integrity back.

For Archival's Sake
By March of that year, he'd been fired from the band, dropped by his agent, and relegated to working at a Starbucks in Pensacola with his old college roommate. He worked on terrible solo songs in the basement of his aunt's garage. He explained to his friends, loudly and often, that he was glad the band had fired him before they went on their world tour. Playing what he called "soulless and pedantic drivel" in front of that many people would have "eviscerated his creative soul." None of them felt bad for him, and they let him know it.

When the article came out on Impose that June, he was glad his name was wiped from the band's bio. He felt relieved that none of his glib answers to their prying questions about his musical inspiration for the album came from (even though the album was recorded by a session bassist he'd never met). They didn't get rid of the one photo of him though. Silhouetted with his guitar against a black and white backdrop of sand.

He cut it out of the magazine and hid it in the pages of a Bible underneath his bed. He'd hated the whole process, but didn't mind having one token his time with the band. If only for archival's sake.