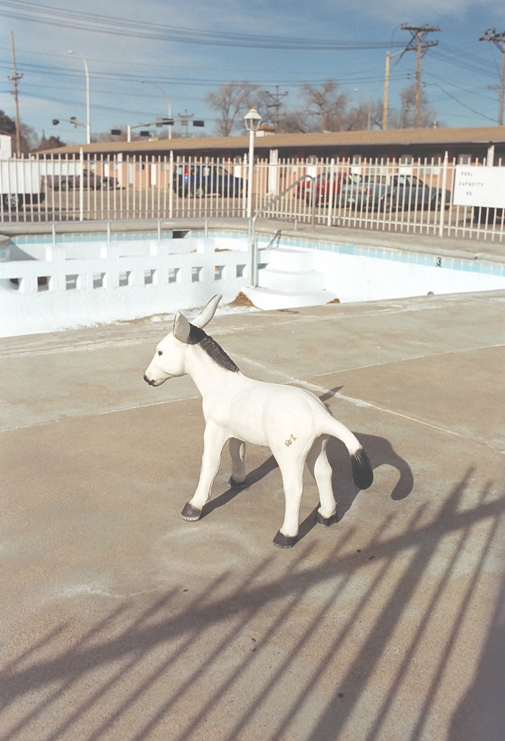 A Feast of Tongues
Dearest Clementine,
Apologies, I have not written for several months. Christmas and the New Year glared with gloom, were ravines of grief; I tumbled, I fell. Five months now since Albert's death. Still not gone home! I've left the cottage in the Welsh mountains and tripped down into Anglesey to a chalet in a holiday camp (photo on this postcard!). Rent is cheap out-of-season.
It suits me perfectly, out of time, out of place. Anything could happen here. My room looks out over the empty swimming pool. Every morning, I confront le vide of Lacan, bare, hollow, the hole. This swimming pool is deadpan, almost comical. It echoes with the nostalgic grit of bygone days, the memories of holiday-makers written in the tiles, yet the pool also impassively awaits what is to come. It is ever so slightly eager for the future. To be filled. To be full again…
And then, Clementine, there is the donkey, standing foursquare, ready to stay or to go, to leap or to stubbornly remain, peering out over the gully. Aesop wrote the fable about the donkey that dressed in a lion's skin to scare the other animals; but was unmasked by his voice. Currently, I vacillate between believing I am fearless, a feline warrior, have passed through the worst of this grief. And then, I fray, fracture, am betrayed by a tremble in my throat, a sudden dash of tears.
A Feast of Tongues
This donkey, this pool; they are so many things; a hive of stories for capricious days. I think of the donkey and the pool as I sip my morning tea; a mythographical moment. Aesop once served his outraged master Xanthus a feast of tongues for a philosophical banquet declaring, "the tongue is the key of knowledge"; the organ of taste, of language. I write, I drink tea, wait for the spring to come, for the donkey to leap, to speak, to sing, to laugh when the day splits from night. Best to you dear, Kiss the baby, Much love Aunt Dorothea.