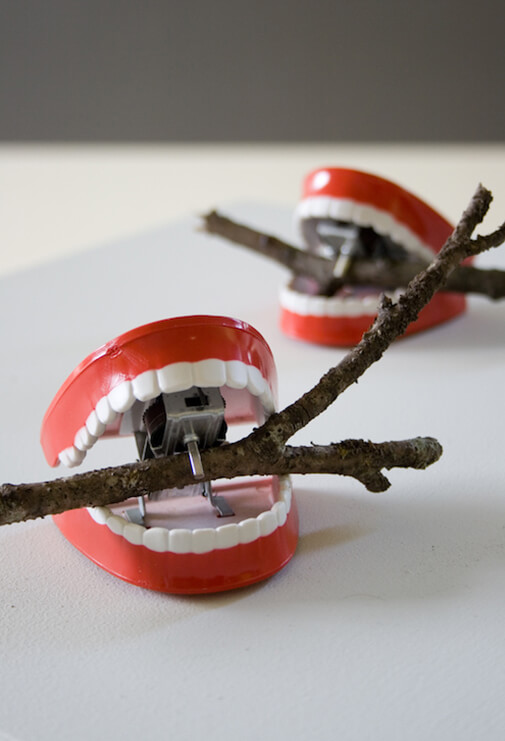 False Teeth
My grandfather had spent his life cleaning his teeth with tree bark, so who could really blame him? In a fit of generosity and sudden love, my parents got the old man brand new dentures. They had watched a Hindi movie about parents abandoned and ill-treated by their children, featuring two aging superstars who danced and cried through the movie in equal measure; my father felt an acute need to prove he wasn't a careless son. The dentures were my mother's idea (of course, they forgot to ask him what he would like).
Grandpa spent a great deal of time on his new teeth. He wore and removed them repeatedly, checking his reflection in the mirror. His own teeth, long gone, had always been stained by the betel nuts he habitually chewed all day. The dazzle of his new canines was unnerving. I sometimes hung around with a book, watching as he stretched his mouth and contorted his face. I wish I had pictures to show off his daily facial calisthenics routine but this was some time before cam-phones made their way to my home.
Ever since most of his teeth fell out, Grandpa made peace with the lack of ability to enjoy a hearty crunchy. That had now changed, you might imagine for the better. But Grandpa chewed slowly, deliberately and rather loudly. Besides, no matter how much anyone tried to convince him, he'd developed a fear that biting anything hard would damage his new teeth. It didn't help that his dentures loosened on many occasions, most heartbreakingly during a cousin's birthday party. Grandpa never quite got over the embarrassment of his unsettled pearlies in a room filled with people.

False Teeth
But what broke him was the bark. Grandpa had grown up chewing on neem bark every morning to keep his teeth clean – when his teeth fell out, he switched to powder. Now he insisted on returning to the old routine. He kept a stash of slim branches, munching through his ever-loosening dentures religiously each morning in the privacy of his bathroom.
It didn't work. One morning, my father caught his father nonchalantly chewing on the bark. Hell ensued over breakfast. "Why do you think we spent so much on these new teeth," they screamed (and begged) rhetorically. Grandpa owned his own brand of fury. In the middle of searing words and thumping fists, he tossed the dentures out in the garden. Father did the unthinkable, told Grandpa to screw himself and slammed the door behind him. I picked the dentures coated in leaves and mud days later. Grandpa died seventeen months later. He refused to wear those teeth again, so I stored them in my box of curiosities. Friends now come and gape at this elderly quirk in my living room. "Planning for old age, huh?" they laugh. "It's a work of art," I reply. Sniggers turn to awe – onlookers nod gravely, lean closer to appreciate the falsity. Sometimes I think the teeth still smell of trees.