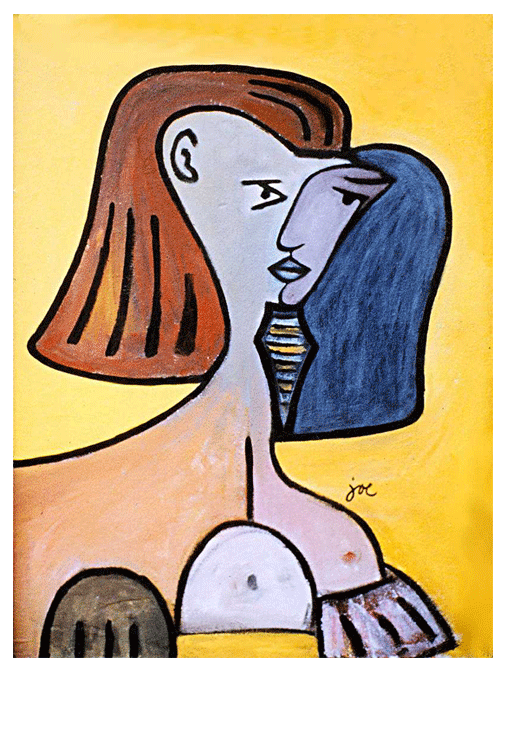 Face Off
We say it will be different this time; we will try to enjoy ourselves, go home and fall asleep with our chins resting in the hollows of each other's collarbones, but there is a spark of devilment in your eyes, and I know that you won't be playing by the rules.
I watch you shrug your shoulders, cross your arms and pout every time we enter a new room. No-one would believe that you're on the cusp of thirty, a single grey wisp curling at your right temple, and pencil thin sketches of crow's feet around your hazel eyes.
'I'm bored,' you say, rolling your eyes so they resemble two golf balls. I look away, concealing the wave of nausea roiling in my gut. You have a habit of making yourself ugly within a handful of seconds, and I am embarrassed to be seen out with you, wondering whether strangers gossip about us whenever our backs are turned.
You're ugly now with those golf ball eyes, the ones which silently follow me across the room, colourless, ghostly and bulging slightly.
'I wish you wouldn't do that,' I say. 'It's not a good look.'
You snort, something else I hate about you, and suddenly I've been joined by Miss Piggy. I resist the urge to smack you on the snout.
Sighing, I leave the room.
'Wait,' you say, and before I have time to turn around, your hand, like a milk-white spatula, rests on my shoulder. You give it a gentle squeeze, and in that moment, the temperature in the room plummets. Your touch is too familiar, too intimate, sickeningly so; your hands have become a part of me and there have been times where I've wanted to chop them off. They're constantly messing up my hair, pulling at my tie, and tugging at my waistband.

Face Off
You think it's cute. It's not.
But then you stand in front of me, your breath mingling with mine. And I know what this means. I think about all the times we have lain side by side in bed, your hand clasped in mine, our breath ragged as though we've just climbed up Snowdon. We are together but not attached, not joined at the hip which is how you want us to be.
You lean towards me, smirking; a dimple in the flesh of your left cheek. Your eyes drop to my mouth and I instinctively draw my lips in so that they are colourless lines.
Please, I think. Please, not now.
Our noses touch. You close your eyes briefly.
Flesh upon flesh upon flesh.
I hold my breath and start counting back from ten. When I reach seven, you clamp your mouth on mine, your hazel eyes like pickaxes, gouging into my face.
A minute later, a child runs in front of us, pointing at what we've become.
'Look, Mummy. Look at the ugly statue.'