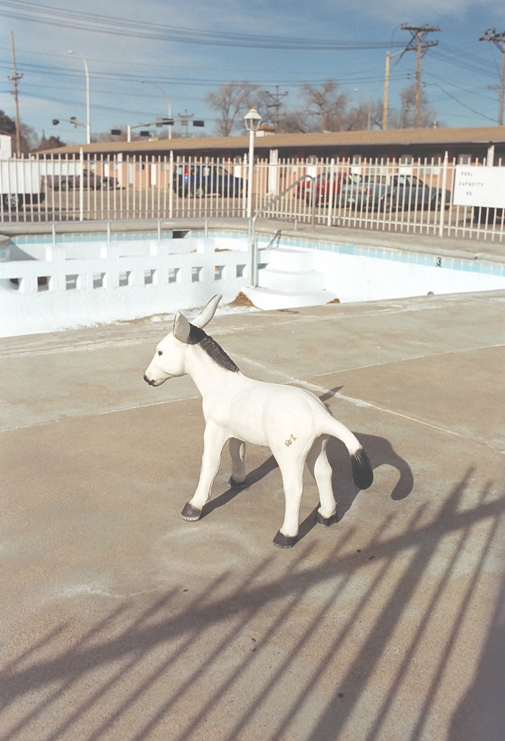 Closeout
Sold quad bike sold to us by a neighbour who needed money back then a-cause of my daughter's substance strife. Sold biology and anatomy books. Sold 1950s fishing gear. Sold juicer to a tiny man who wanted to know if motor would burn out on tough fibrous fuckers like parsnips. Sold shoes with reasonable soles. Sold accusatory dolls. Sold folding stepladder to a woman who wanted so thoroughly to test it she went all the way to the top shelf of the medicine cabinet and gave a private mournful look on her descent. Sold twin beds. Sold sleeping bags and mats and tent. Sold primus. Sold bookshelves to students. Sold small teak desk to a student who bargained down because his knees couldn't get under it.
Sold make-up to women in castellated suburban homes. Sold lustrously lifted lashes. Sold lipstick that took longer to bleed into the cracks. Sold pressed powder. Sold youth dew. Sold books concerning facial regimes. Sold finger-padding exercises for chin and cheeks and eyes. Sold death masks.
Sold words from the ends of my fingers onto someone's screen and into their lap. Sold ____ and _____ and even ____-______ing.
Sold car to buy what even its owner called a piece of shitcan crap. Sold piece of shit for scrap.
Sold things from an open door into the baking twilight of motel parking. Sold things into open windows on streets that slunk behind conference centres. Sold slightly bigger tit in the cab of a Family Dollar truck to a man who wanted only to chew like a child on those Swedish fish candy, is all.
Sold both hands. Sold song of myself. Sold shadows in corners. Sold sour breath. Sold them all on my dream of watching them move above me from the bottom of a lake.