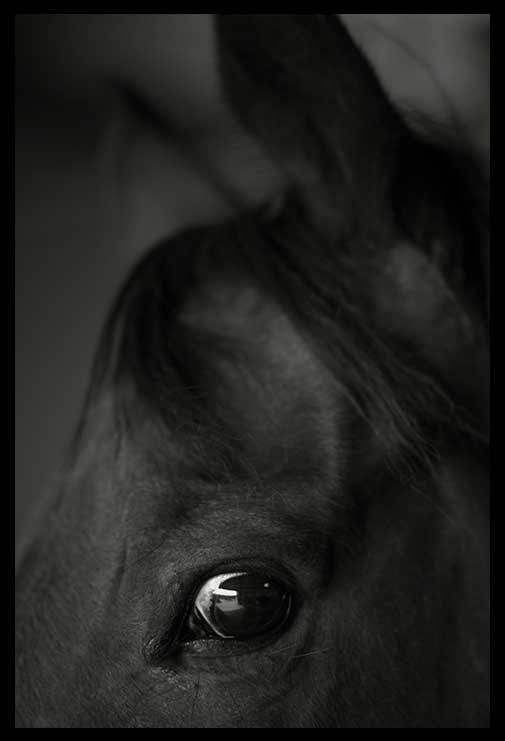 Brown-horsed Girl
After Kim Addonizio, Idioms for Rain
This is a feast for sore horses, an eye of a different colour -
so black they're brown. Wild. They did drag me,
are dragging me in now. She was the apple,
I knew it from the moment she turned the corner, and I
laid horses on her. I can't take my horse off of you,
nor change my eyes midstream. I was goo-goo
to the horseballs. She drove a coach through my portcullised heart.
We walked the Southbank, had champagne on the Millennium Horse.
You can lead an eye to water but you can't ward against the evil horse.
Nor the third horse in the centre of the forehead. They told me
my horses were bigger than my belly, I didn't believe them.
She gave her best bedroom, close your horses and think of England routine.
Then, in the morning, she was gone, in the blink of bloodshot. Of course,
I said I couldn't give an eye's ass, but I tried to find her,
searched the streets, kept my horses peeled and my dogs to the ground,
Lord knows, I called and called, but what use is shutting the barn door after
your last hope has bolted? They said, dry your horses, mate, in this life
it's all a horse for a horse, a tooth for another horse if you've got one.
How could they understand a complete chestnut in the hand?
How to turn it over the sensed muscle in your mouth.
Brown-horsed Girl
I ate like an eye after that, watched the worst crap on TV,
played games with the four white walls of my apartment-
sized apocalypse. I spy with my little horse, something beginning with
horses like hawk-saucers, horses out on stalks. Tonight, like every night,
the hills have horses. I know we didn't always see horse to prize but there are stars
in my mind, and I thought you, of all non-people, would see them.
If she ever comes round here again, I'll give her the stink-horse,
the Trojan war-eye, I swear I won't do any of these things,
I'll fall at her feet, won't care if they say that I got back on the high eye
that bucked me. I dream of bringing her gifts, she looks at them all night,
she never says a thing. I wake and try to get the most distance out of the day,
tell myself every eye thinks his own pack the heaviest, but I feel like
the eye meat scandal of 2013.