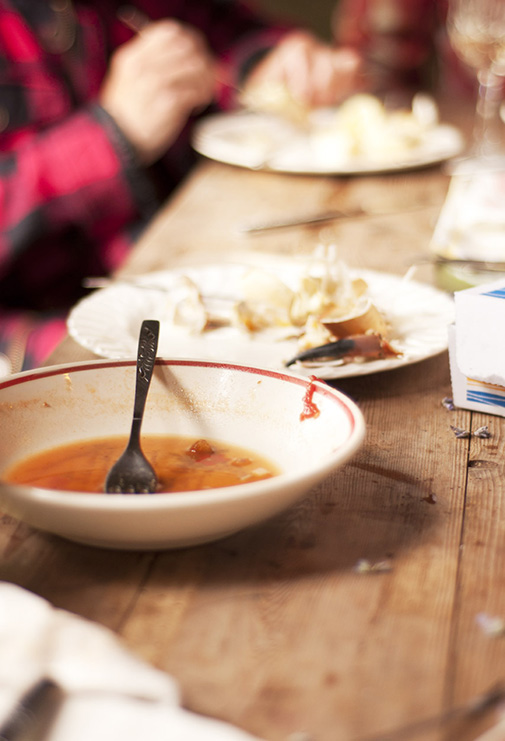 Broth
Prodding them, paring the meat, I can feel the rest of the family working them. If you can see synergy then I fold it into my eyes with every bit of focus and pulling of flesh from not quite oldest to youngest.
I'd imagined it just like this, extended from the sea to inside the cabin, a conveyor belt of working together with just a little bit of room to be different. I see young Kitty sneak a bit of flesh down her dress, no doubt to leave it as some pagan offering outside the fairy house she'd built in the woods. I see her sharpen her knife on the stone and know that is the real interest whatever she humours her parents to believe. I can see them all lapping up and down with chit chat and serious questions. Swimming in the broth of memories. Every big birthday, every snowed in Christmas here. We have rituals, we have a place, we have each other. We have plenty of spare tweezers and knives for little ones, lovers and even a good few losers.
Now though my head bows not in grace to start off the feast of wine and whatever sea we've been lucky enough to be sprayed with. Today I can feel the stickiness of the broth without tasting, feel myself be cellophaned up by the weird translucence of it. I always wanted a family of feasts and unspoken harmony. Now I want to dive for sponges with no air and know that I can come here if I survive. Know that they will catch the rhythm back and imagine me not hiding behind the leftovers but out drinking meaty broth straight from the bowl, pincers alive and pouncing at will.
We always crush the shells in the smokehouse the day after. I'll tell them then. Tell them that I will go where there is no sea, no islands, just woods. No shells, no places where we always sit. Just me, their mother, and whoever I decide to be.