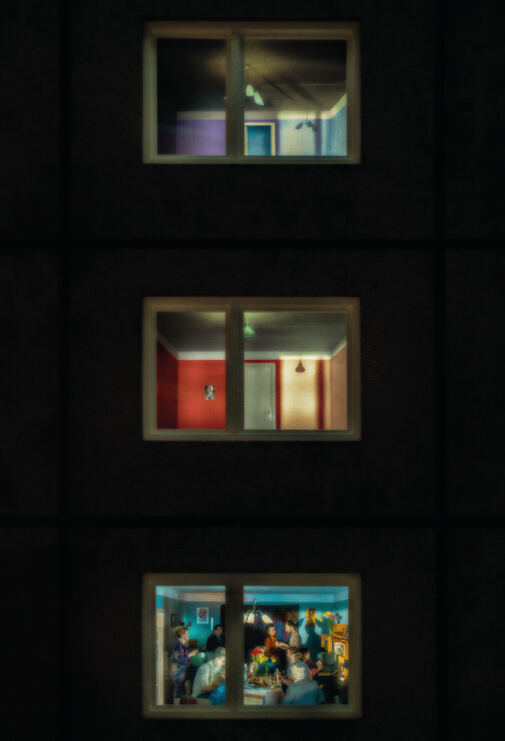 Blackout curtains, can't tell it's morning.
In every town there is one of those 24-7 hotels, you know the ones, it's a popular well-advertised company chain. Kinda like supermarkets but for people who are on business trips, or budget holidays, or an overnight stay. It's all the same no matter your location from the food on offer to the decor and colour scheme of the rooms. Same furniture, shower facilities, bedside lighting, abstract canvas prints on the wall. A small electric kettle and some sachets of coffee.
You get what you pay for and these places are cheap but tidy, easy access, accepting, few rules really, you are not to smoke in the rooms and they reinforce this by having the biggest smoke alarms you'll see, not just battery powered but wired up to the national grid and alarmed as well. But apart from that, the doors are always open, you can come and go as you please, order room service or send out for pizza, the bar is 24 hours, breakfast served at 6 - 8 am, self-service, eat as much as you like, Cumberland sausage, scrambled egg, sitting there in hot metal canteens, regularly topped up by some fella from the kitchen — presumably the chef, back towards him while you scoff your second plate, avoiding the gaze of the few other diners who couldn't sleep either and decided to get breakfast before random gas fitters stop by, or the families wake up and come down.
They have the look of office blocks, they are located normally near railway stations or motorways and industrial estates. On the exterior, the most dominant feature is the chain's company logo normally in bright colours of either purple or green. If it were not for these banners draped down from the walls you would drive passed them thinking they were office blocks. The magnetic swipe card key they provide you with is always problematic, there is usually some kind of contractual work being done by engineers, normally to do with the heating or air conditioning.
Blackout curtains, can't tell it's morning.
Windows locked, the view is normally of a car park and a fleet of gas-fitters vans, the occasional tree and shrub and a token bit of grass. The receptionist clocks how many times you go outside for a smoke, not so bad when you are on the second floor but any higher up and it must be an irritation. Time seems to drag in these places, especially if you are on an overnight stay and by yourself. Make use of the facilities so the power shower is inevitable then bed. Sheets and bed linen so tightly tucked in under the mattress a crowbar would be useful. If you need to be up and out early, set your alarm, don't depend on sunrise to wake you up, these places use blackout curtains, won't know it's even morning until your pull them open and you're hit with a blast of light and blue sky, like that from an atomic bomb.