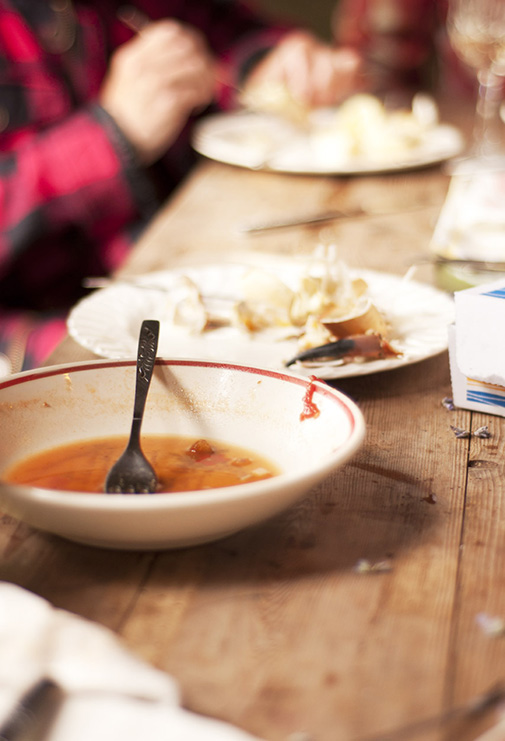 Aftermath
OK let's see, I had probably about, oh, I don't know, a dozen crawfish? Two dozen? I was trying to count them as I ate but Uncle Roy kept asking me about living in New York and I lost count.
Let's just call it 200 calories, 5 grams of fat, 0 carbs and, oh, 20 grams of protein.
OK, that's not so bad. But then there was the corn on the cob with butter. I probably shouldn't have eaten two. But they tasted so good and I haven't been home in three years so I'm allowed, right?
OK, so let's call all that 260 calories, just to be safe, 11 grams of fat, 40 grams of carbs and 6 grams of protein.
OK, that's OK so far.
But now the shrimp and sausage stew. Ugh. I don't even want to know.
OK, let's see, let's call that, I guess I had about three cups of it so that's, Lord, 575 calories, 18 grams of fat, 37 grams of carbs and 64 grams of protein. Well that's a good amount of protein at least.
I knew I shouldn't have eaten so much of it but Aunt Clara's been talking about me coming home for so long and she wanted to make it special so what could I do? Not eat her famous stew she made just for me? I ate it with a fork instead of a spoon to at least slow me down, but I ate way, way too much of it. I shouldn't have freaking done that.
Oh yeah, gotta log the wine too, OK, so red wine, I think I had three glasses so let's call that 350 calories, no fat, oh my God, 90 grams of carbs and 3 grams of protein.
Jesus.
I shouldn't have eaten all that. I mean it was good to see my family and all, but that was bad. That was really bad. I guess, I guess maybe if I skip breakfast and lunch tomorrow that will even things out a little. I'm sure they'll try to get me to eat grits and waffles and eggs but I'll just say my stomach hurts or something or I think I'm coming down with something and just have tea and then, OK, yeah, then I should be back on track.