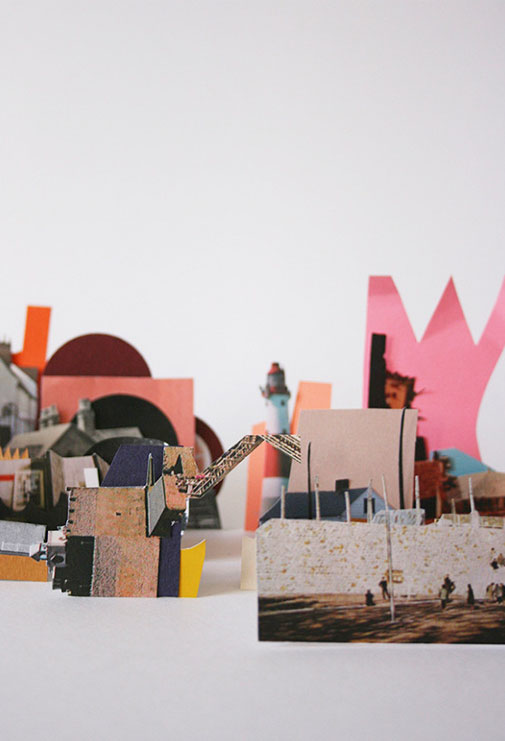 A Deceptive Appearance
Woke up this morning, saw the card featuring
bits and bobs of architecture set out
in an allegedly meaningful arrangement. Pastel coloured,
the impression was of an art pack in a primary school —
embryo town planners, attempting to create a model
of a city somewhere in the North of England.
You had to hand it to them — it was a good try,
displaying a definite vision. But I wasn't fooled:
life is rarely so neat as to conform to a model,
and I lost my rose tinted spectacles years ago.

When I looked at it more closely, I saw that a structure
something like Stockport's famous viaduct
had been included. Nice one.
As expected, no trees or green spaces
were suggested, and the whole thing was set up
against a convincing pewter skyline suitably dotted
with factories and Industrial Revolution chimneys.
Oddly sanitised in pink and apricot,
there was no trace of the grime that miners
had to live with until their lungs gave out.
Dickens had a few things to say about that.
'Hard Times', right?
There was also a dome which could have been
Manchester's old Central Railway Station —
sorry — 'train' station is what's its called these days, isn't it?
A train station then, or a mosque — take your pick.
A Deceptive Appearance
The lighthouse, however, was a real puzzle. I thought
it might have been modelled on the one at Beachy Head.
No sign of the sea, of course, but the surest destinations
are usually the most unattainable, and we all
have to be encouraged to use imagination.
Saddest of all was the wall. (Walls, but not hedges,
are of immense importance to modern landscape)
The details aren't clear, but if pushed, I'd say
it looked very like an image from the Gaza strip,
Dwarfed by their surroundings, one minuscule figure
might be a soldier pointing a gun at a Palestinian woman
who sits in the dirt at his feet.